Cretan health
Volunteer clinic in Rethymnon ( freie med. Behandlung )
Kastrinogiannaki 12, tel.6937346124 , ethiatreio@gmail.com , http://www.ethiatreio.com/
AU Backe

Toothpain in holiday

There is a new brochure in the net which helps you in 7 languages if you need to visit a dentist.

Info
Eurolive Study
Info:
Cretan Diet
Until a few years ago the population of Crete was recognised as the HEALTHIEST in Europe. The reason for this was the Cretan dietary regime, exercise and the climate of the island. Everything suited the way of life of the inhabitants. Heart attacks, cancer and obesity were almost unknown. Many of the inhabitants were over 100 years old. These facts were attested by a WHO study.
This knowledge has been 'bundled' as the CRETAN DIET outside Crete. Synonymous with it is the MEDITERRANEAN DIET, which only differs in respect of the amount and type of olive oil consumed, and the percentage of its consumption compared with that of other vegetable oils. Unfortunately, this knowledge has now been relegated to the background in Crete itself. The modern way of living, tourism, fast foods and lack of exercise have also led to an explosive increase in body weight. Greece is now (2008) amongst the top 5 countries with the highest OBESITY quota.
It's time to remember!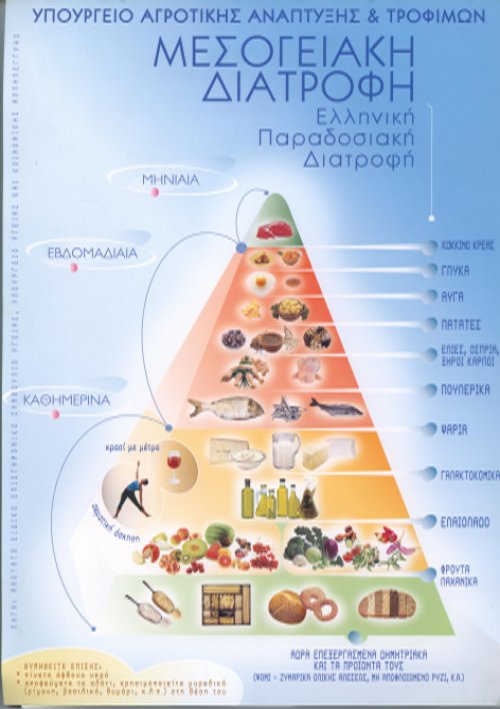 Rules of Cretan nutrition:
Use only olive oil for cooking.
Try to use only local products, with as little processing as possible. Only eat foodstuffs in season.
Eat a lot of (wild) vegetables, cooked or raw. Eat pulses such as beans, lentils and peas.
Eat fruit as a dessert. The main added sweetener should be thyme honey – not sugar or artificial sweeteners.
Apart from sheep and goats, use fish, seafood and snails as animal protein sources.
The bread eaten daily must contain wheat and barley.
Dairy products are more important than meat: eat yoghurt.
Drink a cup of herbal tea every day (Diktamos, sage, malotira).
Drink a glass of red wine with every main meal of the day.
Move a little bit every day.

Source: Cretan Diet - live long, eat Cretan.
Flying
against ear-pain during flights use: Earplanes, in pharmacies