Environmental/nature conservation on Crete

Envirionmental and nature conservation are in their infancy on Crete. Despite injunctions by the EU there are still public, unmanaged rubbish dumps. In addition, rubbish is also simply left on the roadside. Thus, small and large garbage deposits decorate the streets, slopes and little ravines. The Cretans do not understand that this distresses tourists, and that plastic does not decompose in the way that organic rubbish once did. Waste water/sewage is sometimes channelled, untreated, into the sea.
In addition illegal building goes on in protected areas, protected animal species are illicitly hunted, and protected species of plants collected.
However, there is a little light at the end of the tunnel. Thanks to the activities of a few organizations, a lot of money and pressure from the EU, and not the least to tourists who become actively engaged, a slow change in the way of thinking is taking place. Help to protect the unique natural landscape and environment of Crete. Speak with your hotel manager, with owners of restaurants, with your tour operator, with the Greek Tourist Organisation, and join an environmental protection organisation.
NAOM
NAOM with a branch on Crete
NAOM Landesgruppe Umwelt Kreta (NLUK) eV
Since the beginning of the year, NAOM eV has been represented on Crete by a branch, the NAOM Landesgruppe Umwelt Kreta, NLUK eV.
Since there is no European legislation relating to societies, NAOM had to found its branch according to Greek law, in order to be active in environmental and nature conservation on Crete. According to Article 80 of the Greek Civil Code, the District Court of Heraklion/Crete, in special session, announced and determined that the NLUK, according to Decision No. 1235/4306/1251/200, be entered in the register of societies/organisations. According to the decision of the court and the articles of the NLUK, The purpose of the society is the transmission of information and knowledge about environmental protection to the people of Crete, through research and studies in every scientific field, in order to preserve an intact and healthy environment for the well-being of the population of Crete at large. This goal is non profit-making and does not contradict current law, customs or public order. The decision became legally binding with its publication in the Register of Societies, thus the NLUK eV is the first, European environmental organization for (and on) Crete, based in Heraklion. NAOM II has 66 members to date, mostly Greeks but also German and Austrian citizens, as well as Irish, Turkish, American and Ecuadorian members of the NLUK eV, who give information about their activities all over Europe via their own homepage: www.kreta-umweltforum.de/. There is also a special forum on this website which serves as a vehicle for an exchange of experiences, enabling environmental problems to be discussed and information exchanged. In addition the NLUK, on its homepage (under the headings: KRETA/Umwelt/Info) also provides information About Crete, and on subjects such as archaeology/history, geology/palaeontology, fossils, gorges, caves, plants, animals, land and people, churches/monasteries, and of course, environmental and nature conservation. It is thus a valuable (free) source of information for all those holidaying on Crete, who are interested in the environment and natural landscape of the island of Zeus, since the information given is of a first hand nature.
HELMEPA:  Hellenic Marine Environment Protection Association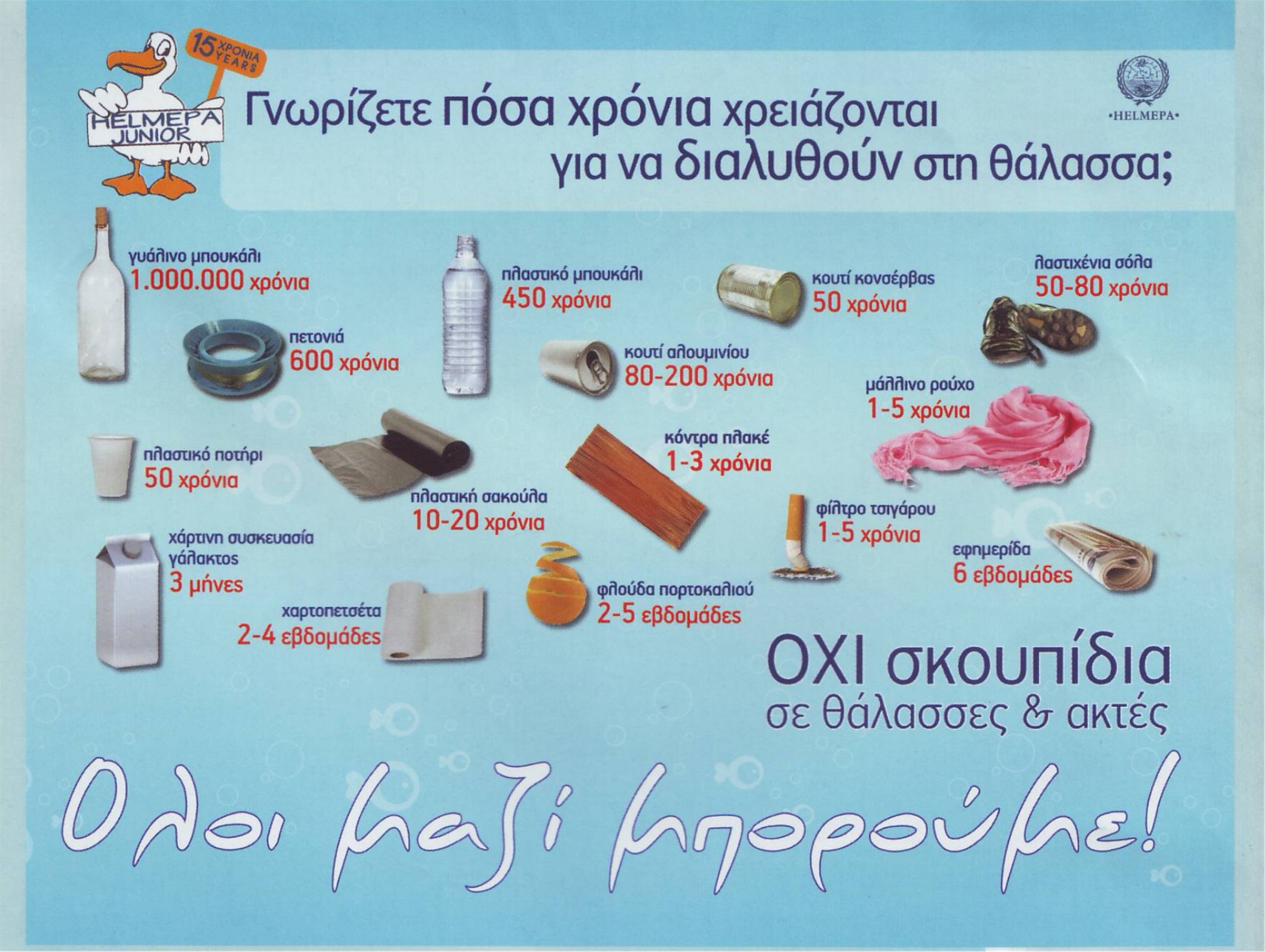 European Environment Agency
- Bathing-Water quality