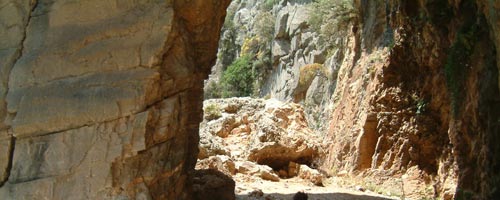 Crete – Travel Guide
There are so many good travel guides about crete. So why write a new one for Crete here? We want to introduce you - very briefly - to the Prefectures of Crete, inform you about sightseeing, bring some of the places on the island closer to you and encourage you to explore for yourself on tours. In particular, we would like to spotlight a few of the numerous caves of Crete and guide you through the gorges. An 'action holiday' creates an appetite and makes you tired, so we will introduce you to tavernas and hotels which we think worthy of mention. You will find more information about eating and drinking in the Kreta-abc Business Directory.
This is going to be a very personal travel guide, which you can help to create. Send us information about locations worth visiting, favourite places etc – gladly with photos – to
We would like to thank:
the NAOM- Umweltforum Kreta e.V. for their support. More information under: Kreta-abc / Tips& Info / Environmental protection and nature conservation.
Frankie Miles: for her ok to use tours from her book " Crete on the Road "
In addition, we will be introducing travel guides, art guides, trekking guides etc for Crete which have made a good impression on us. Following current trends, we will also mention online guides.
Travel Guides:
Lonely Planet Crete , Victoria Kyriakopoulos , Lonely Planet Publications ( 2008)
The Rough Guide to Crete , Geoff Garvey and John Fisher , Penguin Books Ltd (UK) ( 2007)
Western Crete: Car Tours and Walks , Sunflower Guides (2008)
Eastern Crete: Car Tours and Walks , Jonnie Godfrey , Sunflower Books ( 2008)
Crete ( Blue Guide Crete ) , Pat Cameron , W W Norton & Co ( 2003)
Walks in Elounda East Crete , Lance Chilton and L. Chilton , Marengo Publications
Living in Crete , Carol Palioudakis Edwards
Crete On The Road , Frankie Miles
Online Guides:
www.visitgreece.gr
www.greektourism2020.gr
http://www.hikr.org/
Marginal